Baker 2023 Basketball League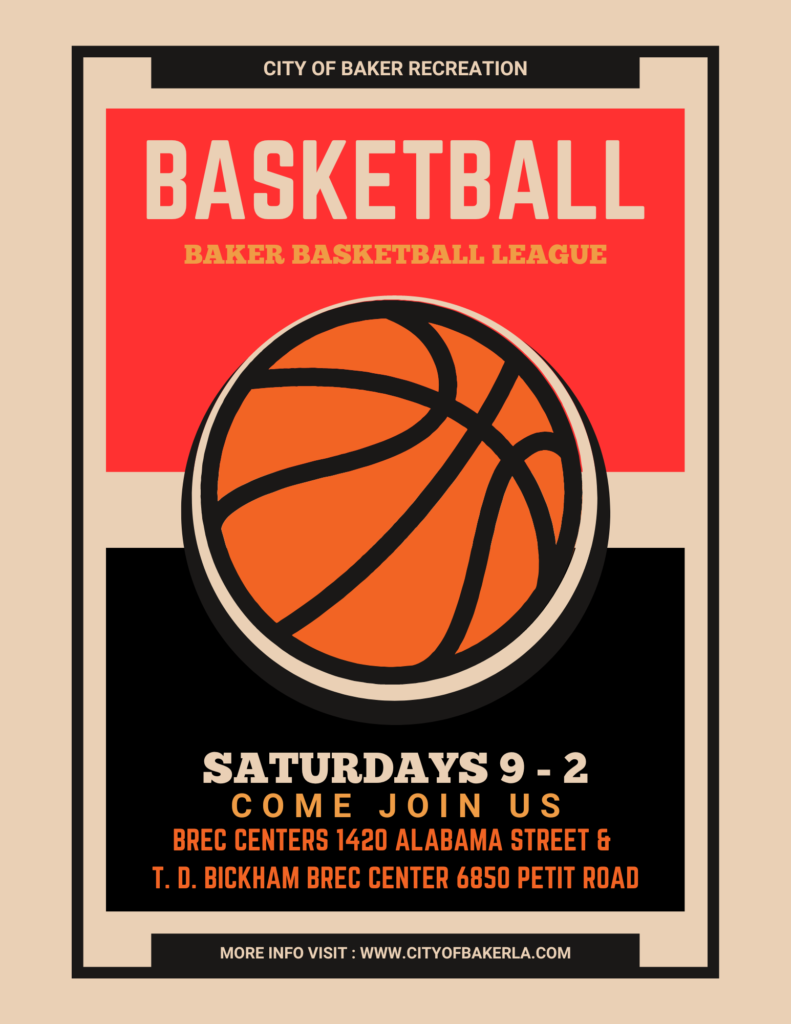 Schedule below
————————————————————
Code of Conduct:
COBRA CODE OF CONDUCT PLEDGE
(CITY OF BAKER RECREATION)
FOR PLAYERS & PARENTS
Have FUN!
Be a good sport ( win or lose); Be honest, fair and always show good sportsmanship to all coaches, players, officials, parents and fans by demonstrating good sportsmanship at every game and practice.
Learn the values of commitment to the team. I will attend every practice and game that I can and will notify My coach if I cannot.
Put personal goals aside for the betterment of the team.
Show courtesy and respect to teammates, opponents and coaches.
Realize that athletic contests, including practice sessions are educational experiences and opportunities.
I will not engage in unsportsmanlike conduct or any altercations.
I will not engage in rude behavior.
I will treat everyone including coaches, players and officials with respect, regardless of race, creed, color, nationality or gender.
By entering this facility you agree to abide by the
COBRA Code of Conduct.
Any violation will result in removal from the facility.
———————————————————–
SCHEDULES:
Baker Basketball League Gameday Schedule
March 18, 2023
Baker BREC Center
1420 Alabama Street
9:00 am
9:50 am 8U Buffalo Soldiers VS Buffalo Elite
10:40 am 6U Buffalo Elite VS Buffalo Soldiers
11:30 am 10U E. Fel. Tigers VS Buffalo Elite
12:20 pm 14U St. Gab. Tigers VS Buffalo Elite
1:10 pm 14U
T. D. Bickham BREC Center
6850 Petit Road
9:00 am
9:50 am 12U MP Elite VS Buffalo Soldiers
10:40 am 12U E. Fel. Tigers VS Buffalo Elite
11:30 am 10U Buffalo Soldiers VS St. Gab. Tigers
12:20 pm 9UG Lady Comets VS E. Fel. Tigers
1:10 pm
ADMISSION:
Kids (5 & under): Free
Students (10 – 18): $2.00
ADULTS: $5.00
——————————————————————————————————————–
Baker Basketball League Gameday Schedule
March 11, 2023
Baker BREC Center
1420 Alabama Street
9:00 am 12U La. Cobras VS E. Fel. Tigers
9:50 am 8U Baker Legends VS La. Cobras
10:40 am 12U MP Elite VS St. Gabriel Tigers
11:30 am 8U Baker Legends VS Buffalo Soldiers
12:20 pm 12U Buffalo Soldiers VS Baker Legends
1:10 pm 14U La. Cobras VS St. Gabriel Tigers
T. D. Bickham BREC Center
6850 Petit Road
9:00 am 10U MP Elite VS Buffalo Soldiers
9:50 am 10U E. Fel. Tigers VS Baker Legends Elite
10:40 am 9UG E. Fel. Tigers VS MP Elite
11:30 am 14U Buffalo Soldiers VS Baker Legends
12:20 pm 9UG MP Elite VS Lady Comets
1:10 pm
ADMISSION:
Kids (5 & under): Free
Students (10 – 18): $2.00
ADULTS: $5.00
——————————————————————————————————————–
Baker Basketball League Gameday Schedule
March 4, 2023
Baker BREC Center
1420 Alabama Street
9:00 am 8U La. Cobras VS Baker Legends
9:50 am 6U Baker Legends VS Buffalo Soldiers
10:40 am 8U La. Cobras VS Buffalo Soldiers
11:30 am 9UG MP Elite VS Buffalo Soldiers
12:20 pm 14U Buffalo Soldiers VS St. GabrielTigers
1:10 pm 14U
T. D. Bickham BREC Center
6850 Petit Road
9:00 am 10U St. Gabriel Tigers VS E. Fel. Tigers
9:50 am 12U MP Elite VS Baker Legends Elite
10:40 am 10U Baker Legends Elite VS MP Elite
11:30 am 12U Buffalo Soldiers VS La. Cobras
12:20 pm 10U St. Gabriel Tigers VS Buffalo Soldiers
1:10 pm 12U E. Fel. Tigers VS St. Gabriel Tigers
ADMISSION:
Kids (5 & under): Free
Students (10 – 18): $2.00
ADULTS: $5.00